CoQ10 Alert? Are You Taking the Right Form of CoQ10?
Is there more than one form of CoQ10?
How do the two forms differ?
Dosage Recommendations
Ubiquinol Research
A Special Note for Statin Prescription Users
Is there more than one form of CoQ10?
There are two forms of CoQ10: Ubiquinone and Ubiquinol.
The only form that, until recently, has been readily available on the market for the last 40 years is the Ubiquinone form. The other form of CoQ10, Ubiquinol, studied since its discovery in 1957, but kept from the market due to its sensitivity to light and air, became available in 2006.
Ubiquinone is the oxidized (unreduced) form of CoQ10 and Ubiquinol is the active (reduced) form of CoQ10. Your body naturally produces Ubiquinone and then converts it to its active form: Ubiquinol. In the young and healthy, this conversion is efficient; however, starting at around the age of 30, your body's ability to make Ubiquinone and then convert it to Ubiquinol begins to decrease significantly. This is where supplementation can be critically important.
Since Ubiquinol does not need to be converted, it is ready for immediate use by the body, which allows the body to make use of higher levels of the benefits of CoQ10. Moreover, ONLY the Ubiquinol form is responsible for the powerful antioxidant benefits associated with CoQ10. More than 90 percent of the CoQ10 found in a healthy person's plasma is in its reduced ubiquinol form.
Another important consideration is the cost of CoQ10 supplementation. Chances are, when you purchase a product labeled as CoQ10, you are getting Ubiquinone. Ubiquinol is a little more expensive than Ubiquinone, but much more potent. In fact, studies suggest that you can take approximately eight (8) times less Ubiquinol to achieve the same results from that of Ubiquinone.
For instance - A 150 mg capsule of Ubiquinol is approximately equivalent to 1200 mg of Ubiquinone. See chart below for approximate comparisons.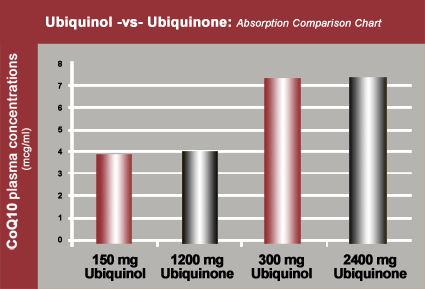 NOTE: In several studies, including the one sited below, patients with congestive heart failure often failed to achieve adequate plasma levels of CoQ10 through Ubiquinone, but showed a marked increase in plasma levels when treated with Ubiquinol. The dosage used in clinical trials, for critically ill patients, tends to be much higher than any manufacturer would recommend. Therefore, it is important that you consult with your doctor before self administering this, or any natural supplement.
DOSAGE - As a general rule of thumb, those who are older or suspect they have decreased CoQ10 due to disease may want to start supplementing with 200-300 mg of Ubiquinol per day. Studies show that the CoQ10 plasma levels plateau at about two weeks at this dose. Then, 100 mg per day is a good maintenance dose. However, if you are pregenant, lactating, or under medical care for any reason, you will want to discuss any supplemention with your doctor beforehand.
Another critical difference between the two forms of CoQ10 is how long supplemental Ubiquinol remains in the body compared to Ubiquinone. A recent study showed that Ubiquinol was present in the blood at an almost four-fold greater concentration after eight hours compared to Ubiquinone.
Clinical trials documenting Ubiquinol's effects on such conditions as: Heart Disease, Oxidative Stress and Aging, Parkinson's Disease, Diabetes, Liver Dysfuction, Renal Disease and Oral Health have yielded remarkably beneficial findings. Perhaps the most studied of these conditions has been Ubiquinol's CRITICAL IMPORTANCE to patience with Congestive Heart Failure (CHF).
In the very first clinical trial evaluating the benefits of Ubiquinol on late-stage CHF, cardiologist Peter Langsjoen assessed the effects of changing patients from Ubiquinone to Ubiquinol. Lansjoen found that critically ill patients who supplemented with ubiquinol for just three months experienced a 24 to 50 percent increase in their hearts' ability to pump blood than when taking the CoQ10 form of Ubiquinone.
In some cases, patients' plasma levels of CoQ10, which are key to overall heart health, more than tripled. At the start of the study, each of the patients evaluated had a life expectancy of less than six months. However, all demonstrated significantly improved heart function by the trial's end, and survived past initial expectations. Abstract: http://www.ncbi.nlm.nih.gov/pubmed/19096107
A Special Note for Statin Prescription Users:
Statins are the number-one selling prescription medications in the world. Some estimates show that over 50 million people will be prescribed a Statin drug in 2012, in the United States alone.
If you are taking a drug prescribed by your doctor, for the purposes of reducing cholesterol, chances are, it is a Statin.
Statins work by limiting the liver's ability to produce cholesterol. CoQ10 is also primarily produced by the liver via the same enzymatic mechanisms. Therefore, while the Statin may be reducing your cholesterol levels, it is ALSO reducing your circulating levels of CoQ10. The irony of this becomes apparent when you consider that statin-induced CoQ10 deficiency could ultimately causes the one thing they seek to prevent: heart failure. This is why many doctors are now recommending CoQ10 supplementation for their patients.
Following is a link-listing of Ubiquinol products available for purchase from our site.
Allergy Research Group: CoQH-CF 60's
DaVinci Laboratories: Ubiquinol 100mg 30sg
DaVinci Laboratories: Ubiquinol 100mg 60sg
Designs for Health: CoQnol (Ubiquinol) 50mg 60 softgels
Designs for Health: CoQnol (Ubiquinol) 100mg 60 softgels
Douglas Laboratories: Ubiquinol 30's
Douglas Laboratories: Ubiquinol 60's
Ecological Formulas/Cardio Research: Ubiquinol 50mg 60c
Physiologics: Ubiquinol 100mg 60sg
Progressive Labs: CoQ10 Ubiquinol 30sg
Pure Encapsulations: Ubiquinol-QH (50 mg) - 60 Softgel Capsules
Pure Encapsulations: Ubiquinol-QH (100 mg) - 60 Softgel Capsules
Pure Encapsulations: Ubiquinol-QH (200 mg) - 60 Softgel Capsules
Vital Nutrients: Ubiquinol CoQ10 100mg 60sg
We hope this Health Tip has been helpful. Feel free to contact us with your comments.
Please CLICK for some Ubiquinol options we offer at our website.
Yours in Health!
Oakway Health Center, LLC
FDA REQUIRED STATEMENT: Statements on our site, and within this newsblast, have not been evaluated by the Food and Drug Administration. Products are not intended to diagnose, treat, cure, or prevent any disease.
---
References:
Committed to advancing the science, education and awareness of Ubiquinol and CoQ10 What is Ubiquinol? Ubiquinol.org
Minton, Barbara Ubiquinol: Boost Energy Levels and Overall Health with Best form of CoQ10 naturalnews.com/026128_energy_supplement_health.html
Clinical Trial Shows Ubiquinol has Significant Effect on Patients with Congestive Heart Failure MNT – Medical news Today March 2008. medicalnewstoday.com/releases/100405.php
KanekaQH Ubiquinol Dramatically Boosts Ejection Fraction in Patients With Late-Stage Congestive Heart Failure February 2009 Drugs.com
Langsjoen PH, Langsjoen AM, Supplemental Ubiquinol in patients with advanced congestive heart failure. Journal: Biofactors. 2008;32(1-4):119-28. ABSTRACT: ncbi.nlm.nih.gov/pubmed/19096107
LoGiudice, P ND, LAc and Bongiorno, P ND, LAc Ubiquinol: An Ally Against Aging doctoroz.com/videos/ubiquinol-ally-against-aging?page=2#copy