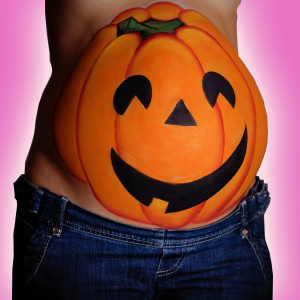 ---
DHA – A Pregnancy Must-Have!
Written by DoctorYourHealth.com
DHA, also known as brain food, is short for docosahexaenoic acid, an omega-3 essential fatty acid, which must be obtained from the diet because the body cannot produce it.
It is the MAIN structural component of brain tissue. (Source)
The research is clear on the benefits of DHA for both the pregnant & lactating mother and the developing fetus, as well as the rapidly growing infant – Adequate levels of DHA during pregnancy and lactation, can increase an infant's cognitive function, and decrease the risk of pre-term labor. Moreover, there is evidence to suggest that it plays an important role in the prevention of postpartum depression.
Greater Birth Size – In one study, 350 pregnant women were given either DHA or placebo from the 20th week of gestation to birth. In comparison to placebo, DHA supplementation resulted in more blood availability in the umbilical cord, longer gestation duration, greater head circumference, greater body length and greater birth weight. In addition, the DHA group had fewer infants born preterm than did the placebo group. The mean DHA intake, for the treated group, was 469mg daily. (Source)
Higher Intellectual Functioning – The results of this 2003 study, published in the American Academy of Pediatrics, showed that children who were born to mothers who had taken cod liver oil (a rich source of DHA & EPA) during pregnancy and lactation, scored higher on the Mental Processing Composite test (the global estimate of a child's level of intellectual functioning) at 4 years of age, as compared with the test subjects whose mothers had consumed corn oil placebo. (Source)
According to Heidi Murkoff, author of What to Expect When You are Expecting, DHA is especially important during the last trimester of pregnancy, when a fetus' brain develops at a rapid pace, and during lactation, when the infant's brain triples during the first three months of life.
And for mothers experiencing the baby blues, hormone fluctuations and environmental and genetic factors are no longer the only factors considered as having a role in causing postpartum depression. A growing body of evidence, suggests that decreased levels of DHA, in postpartum females, leads to several depression-associated neurobiological changes. (Source)
Unfortunately, most women in the United States do not ingest proper amounts of DHA. Because developing fetuses and nursing infants rely on their mother for DHA, it is critical that she is ensuring an adequate, daily dietary intake!
DHA Dosage Recommendations:
According to a number of studies reviewed by both the National Institute of Health and the International Society of the Study of Fatty Acids, the optimal intake of DHA during pregnancy or breastfeeding is at least 300mg per day. The same sources recommended at least 220mg per day for children and adults.
WARNING: Some medications can lower the effectiveness of dietary and or supplemental DHA. DHA can also increase the effect of other pharmaceuticals, such as those designed to lower blood pressure or thin the blood. Always check with your doctor first if you are taking an over-the counter, or prescription medications.
Sources rich in DHA include:
Supplements
Cod liver oil
The following seafoods: halibut, herring, mackerel, oysters, salmon, sardines, trout and fresh tuna. (Source)
Look for any one of a number of supermarket foods brimming with omega-3s from fortified juices to eggs produced from chickens fed with omega-3 fortified grain. A sampling of these foods include: bread, cereal, eggs, flour, juice, margarine, milk, pasta, soy milk & yogurt. (Source) Check the labels! Not all eggs for instance are from chickens fed with omega-3 fortified feed.
IMPORTANT NOTE: Most vegans and vegetarians are at risk for DHA deficiencies, even when consuming sufficient quantities of another essential fatty acid known as: alpha-linolenic acid (ALA). While some  may believe that copious consumption of rich sources of ALA (such as walnuts, flaxseed and soy) will convert to sufficient levels of DHA, it is important to note that the most recent human studies have indicated a very limited conversion efficiency from dietary ALA to DHA. In fact, conversion efficiencies ranging from only 0 to 8% on average have been reported in these studies. (Source)
Furthermore, a recent study has shown that the consumption of several grams of ALA per day failed to increase the low levels of DHA in human breast milk. (Source)
These cited studies have led to the release of a number of commercial products fortified with DHA including infant formula and eggs, plus a wide variety of fortified foods containing DHA as outlined above.
The good news, is that public demand for vegetarian-derived sources of DHA supplementation have started to make their way into the marketplace. The following products offer algae-sourced DHA. The more popular, conventionally fish-derived, options are listed below these vegetarian options:
Vegetarian DHA supplement options, on our site, include:
Douglas Laboratories: Vegetable Liquid Omega-3
Nordic Naturals: ProAlgen
Seroyal/Genestra: Super Neurogen DHA 200mg
Seroyal/Genestra: AFA-Gen
Pure Encapsulations: EPA/DHA Vegetarian
Conventional DHA supplement options, on our site, include:
Douglas Laboratories: Opti-DHA (Enteric Coated)
Douglas Laboratories: QUELL FISH OIL HIGH DHA
Metagenics: OmegaGenics™ DHA 600 Concentrate 90s
Nordic Naturals: DHA Infant w/ D3
Nordic Naturals: Prenatal DHA
Nordic Naturals: ProDHA
PHARMAX: High DHA Berry Frutol 225ml
PHARMAX: High DHA Finest Pure Fish Oil/Orange 150ml
Pure Encapsulations: DHA Ultimate
Seroyal/Genestra: Super DHA Liquid 150ml/5oz
Seroyal/Genestra: Super Neurogen DHA 200mg
We hope this article has been helpful and informative. Should you have questions, or suggestions, please feel free to fill out our Ask the Doctor form. 
Yours in health!
OakwayHealthCenter.com