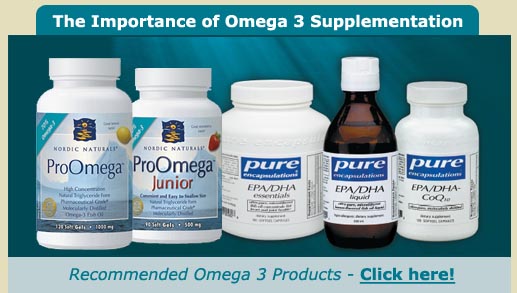 Following are the Top 5 Reasons to be Taking Fish Oils
Decrease of pain & inflammation: Many clinical studies have been conducted comparing the pain-relieving efficacy of NSAIDs compared to omega 3s for arthritic conditions. One such study, conducted by the Department of Neurological Surgery at the University of Pittsburgh Medical Center, concluded that omega 3 demonstrates equivalent effects in reducing arthritic pain as compared to NSAIDs, and was determined to be a safer alternative. Moreover, as has been well documented over the decades, omega 3s reduce inflammation, as opposed to omega 6s, which tend to promote inflammation. Research encourages a balance of the two types of omegas.
Supports Cardiovasular Health: The University of Maryland Medical Center, supports years of scientific research when it states that: One of the best ways to help prevent heart disease is to eat a diet low in saturated fat and to eat foods that are rich in monounsaturated and polyunsaturated fats, including omega-3 fatty acids. Clinical evidence suggests that EPA and DHA, the two omega-3 fatty acids found in fish oil, help reduce risk factors for heart disease, including high cholesterol and high blood pressure. Fish oil has been shown to lower levels of triglycerides (fats in the blood), and to lower risk of death, heart attack, stroke, and abnormal heart rhythms in people who have already had a heart attack. Fish oil also appears to help prevent and treat atherosclerosis (hardening of the arteries) by slowing the development of plaque and blood clots, which can clog arteries.
Reduces Strokes: Research suggests that increasing the levels of omega-3 fatty acids in carotid artery plaques could help prevent stroke. The researchers found that unstable carotid artery plaques, in danger of rupturing and leading to a stroke, contain significantly less omega-3 fatty acids than asymptomatic plaques.
Brain development for infants: According to the March of Dimes, omega-3 fatty acids, particularly DHA, are important for the health of mom and baby. DHA is the most common omega-3 in the brain and eyes. It helps to support a baby's brain and eye development and function. Women should get at least 200 milligrams of DHA every day while pregnant or lactating. A six-year study led by Dr. Maria Makrides from the Women's & Children's Health Research Institute and Professor Bob Gibson from the University of Adelaide, has demonstrated that high doses of fatty acids administered to pre-term infants via their mother's breast milk or infant formula can help their mental development.
Help for ADD and ADHD for adults & children: "Adults & children with ADHD also tend to have more allergies, eczema, asthma, headaches, stomachaches, ear infections and dry skin than non-ADHD youngsters," notes Donald Rudin, M.D. and Clara Felix, authors of Omega-3 Oils: A Practical Guide (Avery 1996). Both Rudin and Felix claim that these problems, including ADHD, are part of a modernization-disease syndrome, which arises from malnutrition centered on an omega-3 fatty acid deficiency.
REFERENCES:
Omega-3 fatty acids (fish oil) as an anti-inflammatory: an alternative to nonsteroidal anti-inflammatory drugs for discogenic pain. Department of Neurological Surgery, University of Pittsburgh Medical Center, Pittsburgh, PA, USA. maroonjc@upmc.edu
University of Maryland Medical Center Omega-3 fatty acids http://www.umm.edu/altmed/articles/omega-3-000316.htm
Hernan A. Bazan, et al. Diminished omega-3 fatty acids are associated with carotid plaques from neurologically symptomatic patients: Implications for carotid interventions. Vascular Pharmacology, doi:10.1016/j.vph.2009.08.003.
March of Dimes Eating and nutrition Omega-3 fatty acids http://www.marchofdimes.com/pregnancy/nutrition_omega3.html
---
Recommened Fish Oils by Manufaturer:
| | | |
| --- | --- | --- |
| Metagenics | Nordic Naturals | Pure Encapsulations |
| | | |
---
Our Top-Selling Omega 3s (Softgels/Capsules or Tablets):
Name/Brand per softgel, capsule or tablet
EPA (mg)
DHA (mg)
ProEPA Xtra Lemon from Nordic Naturals 60s
530
137
EPA-DHA 6:1 Enteric Coated from Metagenics 90s
500
25+
EPA-DHA 720 from Metagenics 120s | 60s
430
290
ProEPA Lemon from Nordic Naturals 120s | 60s
420
100
EPA Ultimate from Pure Encapsulations 120s | 60s
399
133
EPA-DHA 750 Triglyceride from Metagenics 60s
375
375
ProOmega Lemon from Nordic Naturals 180s | 120s | 60s
325
225
EPA/DHA Essentials from Pure Encapsulations 180s | 90s
300
200
EPA/DHA Lemon from Pure Encapsulations 120s | 60s
300
200
EPA/DHA XS Enteric from Metagenics 120s | 60s
300
200
EPA/DHA XS Lemon from Metagenics 120s | 60s
300
200
EPA-DHA Complex from Metagenics 270s | 90s
180
120
Arctic Omega Lemon from Nordic Naturals 180s | 90s
165
110
Arctic Omega Unflavored from Nordic Naturals 90s
165
110
ProOmega Junior Strawberry from Nordic Naturals 90s
162.5
112.5
Our Top-Selling Omega 3s (LIQUIDS):
Name/Brand (amounts are per one tsp or one dropper)
EPA (mg)
DHA (mg)
ProOmega Liquid Lemon from Nordic Naturals 4 oz
1636
1126
EPA-DHA 750 High Concentrate Liquid from Metagenics 5 oz
1400
925
Arctic Omega Liquid Lemon from Nordic Naturals 8 oz
825
550
EPA/DHA Liquid from Pure Encapsulations 200 ml
740+
460
EPA-DHA Balanced Liquid from Metagenics 7 oz
600
600