---
Vitamin D Overview
Vitamin D deficiency is now recognized as a pandemic, affecting an estimated 1 billion of the world's population.
Most of us know the importance of vitamin D intake for strong, healthy bones. Even so, a resurgence of rickets, the childhood bone-weakening disease, has been seen in industrialized countries in recent years.
According to the Harvard School of Public Health, vitamin D deficiency is of great concern because research conducted over the last decade, suggests that vitamin D plays a much broader disease-fighting role as was once thought. [Source]
What is vitamin D?
Vitamin D is a fat-soluble vitamin that is naturally present in very few foods.
There are two different supplemental forms of vitamin D: D2 and D3.
D2, also known as ergocalciferol, is the form made by mushrooms from exposure to sunlight, while D3, also known as cholecalciferol, is the type that's made in your skin from the sun or from fish consumption. Both D2 & D3 must be converted, 'activated' to the hormone calcitriol before they can be used by the body. Both forms can be manufactured for supplements; although the D3 is the one more commonly used.
For years, pharmacopoeias have officially regarded these two forms as equivalent and interchangeable, yet this presumption of equivalence was based on studies of rickets prevention in infants conducted 70-plus years ago. The emergence of new testing methods and numerous studies since, clearly shows a greater bio-efficacy of D3, even though D2 is still used in major prescription formulations in the U.S. The following study cites the reasons why D2 should no longer be used. [Source]
Why is it important?
Vitamin D is one of the most important vitamins for overall health; yet it's most important, signature role is that of maintaining bone health.
In brief –
BONES - Vitamin D is necessary for the absorption of and metabolism of calcium and phosphorus. If your body has insufficient levels of vitamin D available, most of the calcium and phosphorous from your diet cannot be absorbed. Overtime, without enough calcium and phosphorous, your bones will become brittle, porous, and vulnerable to breakage. This of course results in conditions such as osteopenia and its more severe form, called: osteoporosis.
RICKETTS – The main cause of Ricketts is a deficiency of, or an impaired ability to metabolize, vitamin D. This childhood disease is characterized by a softening of the bones, which make them prone to deformity and fractures.
The adult version of Ricketts is osteomalacia. It also refers to softening of the bones. It is not the same as osteoporosis. Osteomalacia is caused by a defect in the actual bone-building process, whereas osteoporosis is caused by a weakening of already developed bone.
BEYOND BONE BUILDING –
The crucial link between strong, healthy bones and vitamin D was made many years ago; however recent research suggests its importance in many other conditions, such as: colon cancer, cardiovascular disease, the flu, multiple sclerosis and type I diabetes to name just a few.
Cardiovascular Disease – Vitamin D receptors (VDR) are found in cells throughout the cardiovascular system. A variety of experimental studies indicate that the liganded VDR may play an important role in controlling cardiac hypertrophy and fibrosis, regulating blood pressure and suppressing the development of atherosclerosis. [Source]
Colon 'Colorectal' Cancer – In 1980, researchers first noted that colon cancer deaths were significantly higher in populations exposed to the least sunlight. These populations included: major cities and rural areas in high latitudes. [Source] Since this 1980 research, dozens of other, more recent studies have suggested the same association.
Flu – The flu virus tends to make its appearance in the winter months, abating in the summer months. In 1981 a British researcher hypothesized that a 'seasonal stimulus' intimately associated with solar radiation, explained the remarkable seasonality of the flu epidemic. [Source] A follow up by several scientist 20 years later suggested that vitamin D might be the seasonal stimulus. [Source]
The above study cited the following evidence [Source]:
Vitamin D deficiency is common in the winter.
Vitamin D has profound effects on immunity, including preventing excess inflammation.
Vitamin D dramatically stimulates anti-microbial peptides lining the respiratory tract where they play a major role in protecting the lungs from infection.
The above study concluded that vitamin D, via the sun or from supplementation reduces the incidence of respiratory infections. [Source]
Multiple Sclerosis – Some research shows that vitamin D improves the symptoms of multiple sclerosis; however, the results of the following study suggest that high circulating levels of vitamin D are associated with a lower risk of multiple sclerosis. [Source]
Type I Diabetes – Analysis of the data in the following study, involving five observational studies, showed that the risk of type I diabetes was significantly reduced in infants who were supplemented with vitamin D compared to those infants who were not supplemented. [Source] This is especially important for infants who are breastfed given that breast milk tends to be low in vitamin D in comparison to formula. Still, the advantages of breastfeeding have been proven superior to that of formula and as such are manifold. The suggestion here is simply that the mother maintains adequate vitamin D levels. See chart below for minimum intakes and consult with your doctor, and/or your infant's pediatrician.
Who is at risk for vitamin D deficiency?
The following groups of people are at increased risk for vitamin D deficiency –
People with naturally, dark skin. The melanin in their skin adversely affects UV penetration.
People with little or no sun exposure.
Breast-fed babies, as breast milk contains little vitamin D
People suffering from: celiac's disease, cystic fibrosis, inflammaroty bowel disease, liver disease, obesity and renal disease
Older adults in nursing and retirement homes
Vegans (soy-based products, fortified with vitamin D, are possible options)
How much do I need?
According to the Institute of Medicine (IOM) guidelines, a daily, minimum amount of 400-600IU daily, DEPENDING ON AGE, is suggested for healthy individuals, with increasing amounts necessary for treating deficiencies.
Following is a chart showing general guidelines for both calcium & vitamin D intake: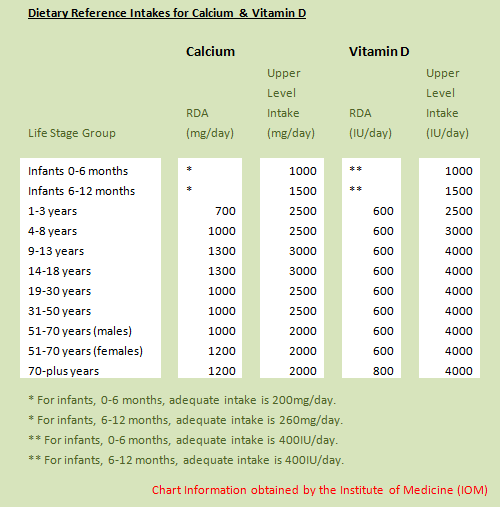 NOTE: The very best way to determine your individual vitamin D needs is to have your doctor check your levels with a simple blood test. In fact, should you be on doses higher than 5,000 IU per day, for any length of time, you will want your doctor to regularly test your levels. An excess of vitamin D can result in the body absorbing too much calcium, which can lead to kidney damage.
When should I take my vitamin D supplements?
Firstly, there is no scientific evidence that taking vitamin D several times a day as opposed to once a day is advantageous. However, vitamin D is a fat soluble vitamin, and as such is better absorbed when taken with a meal containing fat. For most people that would be the largest meal of the day. A study conducted by the Cleveland Clinic Foundation, found that by taking your vitamin D3 with the largest meal of the day, absorption was significantly improved with results showing about a 50% increase in serum levels. [Source]
Where should I get my vitamin D from?
Vitamin D comes from two places: sunlight exposure and from the foods & supplements we ingest.
SUN – Five to 30 minutes of sun, on the arms & legs, twice weekly is often all a person requires for proper vitamin D production. However sun exposure only works during certain times of the day, and in certain seasons above certain latitudes, (or below certain latitudes for those living in more southern climates).
During the summer months, vitamin D production is generally highest during the hours of 10am to 3pm. If you are living in a location above 42-degrees latitude, such as in the northern United States and Canada, vitamin D production does not generally occur between October thru March. Even in states as far south as Atlanta, vitamin D production does not occur from November to February. (To determine your location's latitude, CLICK HERE.)
Additionally, factors such as aging, air pollution, clothing, cloud cover, skin color, sun screen and as previously mentioned, an impaired ability to metabolize and absorb vitamin D, will also affect our levels.
A note on sunscreen - It is important to note that sunscreens with an SPF of 8 or higher, will block the very rays that are needed to produce the vitamin D3. Conversely, any sunscreen used with an SPF of 15 or below can open the door for trouble.
FOOD & SUPPLEMENT Sources of vitamin D –
Supplements such as vitamin D3
Supplements such as: cod liver oils and other fish liver oils
Fatty fish, such as: mackerel, salmon, sardines & tuna (wild caught NOT farm raised – this may be due to the fact that vitamin D is readily available in the food chain, for wild-caught fish, but not in the pellet diet fed to farmed fish [Source])
Cheese, egg yolks, beef and liver contain small amounts
Fortified foods, such as: breakfast cereals, orange juice and milk
Watch Out!:
SAFETY – Vitamin D is considered safe as part of a normal, healthy diet and toxicity is unlikely to be caused by food consumption. Toxicity however, is much more likely to occur from supplementation.
Symptoms of toxicity include: abnormal heart rhythms, constipation, depression, headaches, nausea, poor appetite and weight loss.
Drug interations include: laxatives, steroids, anti-cholesterol drugs, anti-seizure drugs and drugs that block fat absorption. These drugs may lower the amount of vitamin D your body can absorb, or the amount currently stored in your body. It's best to take vitamin D several hours after, or before these drugs are administered. Always check with your doctor first.
If you are taking prescription digoxin, have kidney disease, low parathyroid function, taking prescriptions of any kind, under medical care for any reason, check with your doctor first before supplementing with ANY product.
REFERENCES:
http://www.intarchmed.com/content/3/1/29 - Serum vitamin D concentrations are related to depression in young adult US population: the Third National Health and Nutrition Examination Survey Vijay Ganji, Cristiana Milone, Mildred M Cody, Frances McCarty and Yong T Wang International Archives of Medicine 2010, 3:29 doi:10.1186/1755-7682-3-29
http://www.jabfm.org/content/22/6/698.full Vitamin D: An Evidence-Based Review Teresa Kulie, MD, Amy Groff, DO, Jackie Redmer, MD, MPH, Jennie Hounshell, MD and Sarina Schrager, MD, MS Corresponding author: Sarina Schrager, MD, MS, Department of Family Medicine, University of Wisconsin, 777 S. Mills St., Madison, WI 53715
http://ajcn.nutrition.org/content/84/4/694.full The case against ergocalciferol (vitamin D2) as a vitamin supplement Lisa A Houghton and Reinhold Vieth 2006 American Society for Clinical Nutrition
http://www.ncbi.nlm.nih.gov/pubmed/20200983 Taking vitamin D with the largest meal improves absorption and results in higher serum levels of 25-hydroxyvitamin D. Mulligan GB, Licata A. Department of Endocrinology, Diabetes, and Metabolism, Cleveland Clinic Foundation, Cleveland, OH 44195, USA.
http://www.hsph.harvard.edu/nutritionsource/vitamin-d/#vitamin-d-deficiency-a-global-concern
Vitamin D and Health The Nutrition Source | Harvard School of Public Health
http://www.ncbi.nlm.nih.gov/pubmed/24026071 VITAMIN D AND THE HEART Gardner DG, Chen S, Glenn DJ. University of California at San Francisco.
http://www.ncbi.nlm.nih.gov/pubmed/17179460 Serum 25-hydroxyvitamin D levels and risk of multiple sclerosis. Munger KL, Levin LI, Hollis BW, Howard NS, Ascherio A. Department of Nutrition, Harvard School of Public Health, and Channing Laboratory, Brigham and Women's Hospital and Harvard Medical School, Boston, Mass 02115, USA. JAMA. 2006 Dec 20;296(23):2832-8.
http://www.ncbi.nlm.nih.gov/pubmed/7440046 Do sunlight and vitamin D reduce the likelihood of colon cancer? Garland CF, Garland FC. Int J Epidemiol. 1980 Sep;9(3):227-31.
http://www.ncbi.nlm.nih.gov/pubmed/18339654 Vitamin D supplementation in early childhood and risk of type 1 diabetes: a systematic review and meta-analysis. Zipitis CS, Akobeng AK. Department of Paediatrics, Stockport NHS Foundation Trust, Poplar Grove, Stockport SK2 7JE, UK. Arch Dis Child. 2008 Jun;93(6):512-7. doi: 10.1136/adc.2007.128579. Epub 2008 Mar 13.
http://www.ncbi.nlm.nih.gov/pubmed/7462597 The role of season in the epidemiology of influenza. Hope-Simpson RE. J Hyg (Lond). 1981 Feb;86(1):35-47.
http://www.ncbi.nlm.nih.gov/pubmed/16959053 Epidemic influenza and vitamin D. Cannell JJ, Vieth R, Umhau JC, Holick MF, Grant WB, Madronich S, Garland CF, Giovannucci E. Atascadero State Hospital, 10333 El Camino Real, Atascadero, CA 93422, USA. jcannell@dmhash.state.ca.usEpidemiol Infect. 2006 Dec;134(6):1129-40. Epub 2006 Sep 7.
© Doctor Your Health 2013