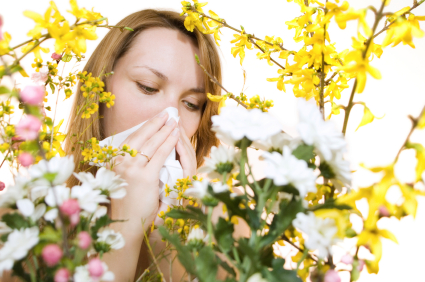 ---
Hope for Hay Fever Sufferers!
Article Contents:
Overview
The Difference Between Hay Fever and the Common Cold Symptoms
The Mechanics of Hay Fever
Minimizing Hay Fever Reactions
Recommended Supplements, and a Word About Vitamin C for Allergies

Springtime creates a mild, southerly warm wind that blankets most of the country, and creates ideal conditions for the rebirth of nature. It's a beautiful sight, with delightful smells that brings most of us a feeling of wellbeing.
It is also the main season for hay fever. And for those of that suffer with it, springtime can be anything but pleasant. Trees, flowering plants and grass pollen are the major sources of pollen in the springtime, and ragweed the most common offender in the fall.
Hay fever, also known as allergic rhinitis, can be seasonal or perennial (i.e., all year around). It is a response to pollen and other microscopic substances (such as dust mites & dander) and affects up to 30% of all Americans. Recent health studies on allergic rhinitis sufferers revealed a measurable decline in physical and mental health status which resulted in a decreased ability to perform daily activities. (Source)
---
The Difference Between Hay Fever and the Common Cold Symptoms
Many confuse the symptoms of hay fever with the common cold; however, though the symptoms are similar, treatment approaches are different.
According to Medicine.net's "Is it a Cold or Seasonal Allergies?" there are ways to differentiate between the common cold and allergies. They include: (Source)
Occurrence of symptoms:  Cold symptoms often appear one at a time; whereas hay fever's symptoms occur all at once.
Duration of symptoms: Colds usually last from seven to 10 days; whereas the symptoms of hay fever continue as long as the person is exposed to the allergen.
Mucus: The color of mucus with a cold is often yellowish in color due to an infection. Conversely, hay fever generally creates a thin, watery discharge.
Sneezing: This symptom is less common with colds and much more prevalent with hay fever; especially, when sneezing occurs two or three times in a row.
Time of year: Colds are more common in the winter, and hay fever usually makes a presence when plants are pollinating in the spring through fall.
Fever: Colds may be accompanied by a fever, but are not usually a symptom of hay fever.
---
As previously mentioned, hay fever is an allergic reaction to airborne substances that enter your body through your nose, mouth, eyes and ears.
Let us look at the allergic response in a bit more detail:
Mast cells, are a type of white blood cell and considered part of the immune system. They reside directly under the skin and play a central role during allergic reactions.
Immunoglobulin E (IgE) is a type of antibody that is found on the surface of mast cells..
IgE binds to allergens, as they enter the body, Mast cells then respond by releasing granules and various hormonal mediators (like histamine) into the interstitium (the fluid surrounding these white blood cells).  Histamine is the main mediator in allergic response that create the symptoms of: reddened mucosae, swelling, itchy, runny eyes and a runny nose.
The role of mast cells is very valuable in immune defense; however, its overreaction to harmless substances like pollen or grass, is unwarranted and unnecessary.
Following are some basic measures for minimizing the allergic response, and following this are some supplement recommendations to help bring it further under control.
---
Minimizing hay fever reactions:
Avoid window fans: They can pull in outdoor pollen
Use your car's air conditioner setting, to keep the pollen out.
Limit your time outdoors during
Take a shower at night before you go to bed. Pollen can find a very welcome home in your hair, which finds its way onto your pillow, in your sheets, etc.
Brush your pet off before he comes indoors.
Use a neti pot. Neti pots rinse away allergens using a saltwater solution. They've been used in India for thousands of years to flush the sinuses and keep them clear. These can be bought at Walgren's, Walmart and other mercantile-type stores for about $10.00.
---
Recommended Supplements, and a Word About Vitamin C for Allergies:
Quercetin: In a Japanese study, this powerful bioflavonoid was shown to significantly inhibit mast cells from releasing histamine. Quercetin's effect was almost twice that of sodium cromoglycate (i.e., a sodium salt which is traditionally described and marketed as a mast cell stabilizer), at the same concentrations. This study's conclusion shows quercetin ability to markedly reduce symptoms of allergies, including runny nose, watery eyes, hives, and swelling of the face and lips. (Source)
DOSAGE: The recommended dosage for allergic rhinitis ranges from 250-600 mg, three times daily, five to ten minutes before meals.23,24 Quercetin's efficacy may be enhanced when bromelain is taken concomitantly.17
Bromelain: Also known as pineapple enzyme, bromelain prevents mucus from becoming thick and stuck. It is the one fruit you can't use with jell-o because it prevents the protein in the jell-o from setting, or clotting. The same thing is true for mucus, which is partially protein. The secret to bromelain is to take it at least one hour before you eat, otherwise it will simply just digest the protein from that meal.
Now, this works great for the common cold and bacterial infections, but how does it work on allergies where we are dealing with thin discharge? In several studies bromelain was shown to be a natural antihistamine and demonstrated an anti-allergic activity in the lungs and airway. (Source)
In one such study, 85% of patients prescribed bromelain, had complete resolution of breathing difficulties and airway inflammation as compared to just 40% of the placebo group. (Source)
DOSAGE: The therapeutic dose for allergic rhinitis ranges from 400-500 mg three times daily of an 1800-2000 m.c.u. potency bromelain.
Probiotics: These "friendly" little bacteria may provide hay fever hope! In the first human study of its kind, scientists at the Institute of Food Research found that probiotic bacteria can modify the immune system's response to grass pollen, a common cause of seasonal hay fever, though the effects are not immediate.
In this study, volunteers with a history of seasonal hay fever drank a daily milk drink with or without live bacteria over 5 months. The probiotic drinks contained Lactobacillus casei, a bacterial species that has been widely studied for its health promoting properties.
Blood samples were taken before the grass pollen season, then again when it was at its peak (June), and 4 weeks after the end of season. There were no significant differences in levels of IgE in the blood between the two groups at the start of the study, but IgE levels were lower in the probiotic group both at the peak season and afterwards.
At the same times, levels of the antibody IgG were higher, a type of antibody that in contrast to IgE is thought to play a protective role against allergic reactions. (Source | Source)
Butterbur: In a clinical study, participants suffering from seasonal allergic rhinitis were divided into two groups. One-half were given butterbur, the other cetirizine (a commonly used, 2nd-generation antihistamine). The results of this randomized, controlled trial showed that the effects of butterbur were similar to that of cetirizine, in patients with hay fever. In fact, it was suggested by the authors of this trial, that butterbur should be considered for treating seasonal allergic rhinitis, over the cetirizine, when the sedative effects of antihistamines need to be avoided. (Source)
What's surprising is that butterbur appears to lack any antihistamine or antiallergic properties, in spite of the fact that the results of this trial were subsequently confirmed. As such, the authors state that more research is needed to determine how and why this herb reduces hay fever symptoms.
A Word About Vitamin C: Surprisingly, there is NO evidence to suggest that vitamin c offers any beneficial relief for allergies. Hay fever sufferers tend to have normal concentrations of this vitamin in their blood levels. In other words, vitamin c was not credited with altering the "normal" course of an allergen and the corresponding reactions to that allergen. (Source) It is worth mentioning here however, that vitamin c is incredible beneficial for the common cold. More on that HERE.
Quercetin-Only Options

Quercetin 300 by Allergy Research

This formulation incorporates the highest potency quercetin available, hypoallergenic and stabilized with additional antioxidants so as not to auto-oxidize (degrade spontaneously). Quercetin can inhibit the manufacture and release of histamine and other inflammatory mediators.

Available in 60 Count.

More Information ...

Quercetin 250mg by Vital Nutrients

Shown to be one of the most pharmacologically active flavonoids, quercetin inhibits the synthesis of enzymes necessary for the release and degranulation of histamine.

Available in 60 Count.

More Information ...

Quercetone 250mg by Thorne Research

The solubility of quercetin chalcone enhances absorption and tissue utilization. The scientific literature reports the flavonoid quercetin inhibits inflammation-producing prostaglandins and leukotrienes, as well as aldose-reductase. Quercetin Chalcone demonstrates ...

Available in 60 Count.

More Information ...

Quercetin by Pure Encapsulations

Quercetin has been shown to be one of the most bioactive flavonoids. Maintains histamine release and degranulation. Quercetin maintains healthy histimine production by supporting healthy enzyme activity ...

Available in 60 & 120 Count.

60 - Count More Information ...
120 - Count More Information
Quercetin-Bromelain Combo Options

Quercetin-Bromelain Complex by Douglas Labs

Quercetin inhibits the IgE-mediated allergic mediator release from mast cells as well as IgG-mediated histamine release. Quercetin is a potent inhibitor of the lipoxygenase that metabolizes arachidonic acid, which is the first step towards proinflammatory arachidonic acid metabolites.

Available in 100 Count.

More Information ...

Querciplex by Douglas Labs

Querciplex, provided by Douglas Laboratories, is a unique formulation of quercetin, magnesium and bromelain. Quercetin is a bioflavonoid that has excellent antioxidant activity. Magnesium synergistically supports the quercetin activity. Bromelain is a proteolytic enzyme purified ...

Available in 100 Count.

More Information ...

Sinuplex by Metagenics

Sinuplex features a unique, ephedra-free blend of vitamin C, quercetin, nettle root extract, bromelain, and N-acetylcysteine. Supports healthy sinus, nasal, lung, and respiratory function. Ingredients are carefully selected and manufactured with advanced processing ...

Available in 120 Count.

More Information ...
Butterbur Supplements

Petadolex by Integrative Therapeutics

Contain a patented, standardized, and clinically studied extract of butterbur (Petasites hybridus). These herbal products feature a unique extraction method (for which the patent was granted) guaranteeing that they are free of pyrrolizidine alkaloids.

Available in 60 Count.

More Information ...

Petadolex by Pure Encapsulations

Petadolex been shown to maintain healthy histamine and cytokine release without sedative effects. In two clinical trials, butterbur maintained healthy nasal histamine release and leukotriene activity, supporting both subjective and objective parameters.

Available in 50 Count.

More Information ...

Butterbur Extra by Vitanica

Commonly used for migraine relief, recent studies have shown that butterbur also provides hay fever relief, specifically for those that suffer from perennial allergies and those preferring a non-drowsey option for the treatment of symptoms.

Available in 120 Count.

More Information ...