Treating Bruises
Bruising: What is it?
Also known as contusions and hematomas, bruises are created when the smallest blood vessels (capillaries and tiny veins under the skin) of your body have been injured. Red blood cells leak from these injured blood vessels and collect under the skin, causing the well-known myriad of colors ranging from first red to black & blue.
A tendency to bruise often is due to weak capillaries, which can in part be genetic. If genetics are to blame, you will have noticed this throughout your lifetime. Conversely, if frequent bruising is a recent condition, you will want to make an appointment with your doctor to rule out any underlying conditions. Bruising on the abdominal area, accompanied by back pain should be examined by your doctor. This type of bruising could be caused by leukemia, major trauma and/or pancreatitis.
You may also bruise more easily if you take aspirin, Coumadin or steroids, which can make your capillaries more fragile. Certain "g" herbs, such as ginkgo, ginseng and glucosamine can also increase bruising.
Vitamins for Bruising
Certain vitamins may be helpful in strengthening the blood vessels under the skin, as well as the skin surrounding these blood vessels. A deficiency of these vitamins has also been implicated in a tendency to over bruise. These vitamins include:
Vitamin C – Vitamin C helps to strengthen the skin around the capillaries. The top 10 dietary sources of vitamin C are listed in the chart below.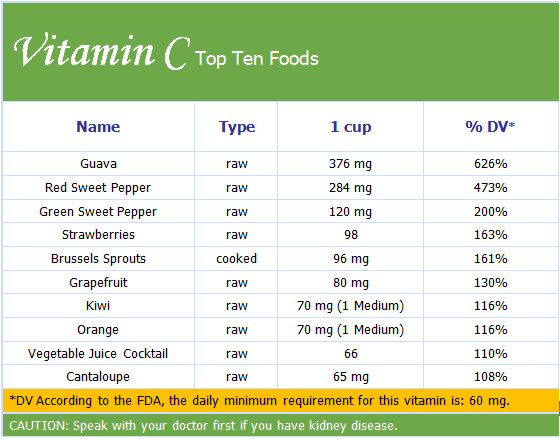 Vitamin K – Helps strengthen the capillaries so they are not so fragile. The top 10 dietary sources of vitamin K are listed in the chart below: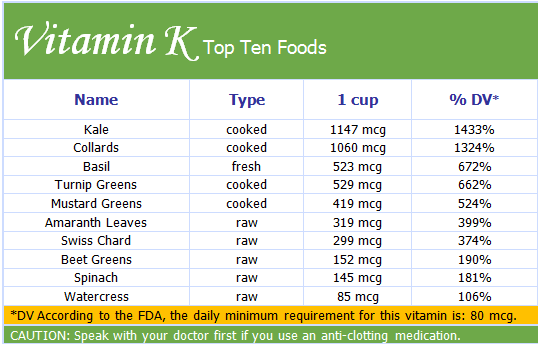 Additional Remedies for Treating Bruises
Avoid Aspirin – Aspirin is an anticoagulant that thins the blood. It causes the blood to spread quicker, increasing the size of the bruise.
Apply Ice – Ice is a vasoconstrictor. It causes the blood vessels under the skin to constrict, which in turn slows the flow of blood.
Note: A bag of frozen peas, or corn makes an ideal ice pack.
Note: Do not apply ice directly to the skin. Use a piece of cloth of a towel.
Directions: Apply ice immediately after you injure yourself - up to a maximum of 10 minutes, every 2-3 hours. You can ice an injury, several times a day for up to three days. Most healthcare professionals do not recommend icing more than 10 minutes at a time due to the hunting response. The hunting response occurs when continued application of ice results in a sudden dilation of blood vessels. The suggestion is to ice the affected area for no more than 10 minutes, and then allow it to return to normal skin temperature before icing a second or third time.
A good rule of thumb – If you apply the ice for too long, the area will become red. Red indicates increased blood flow, which is what you want to avoid.
Apply Heat – Swelling takes up to 48 hours, so you will want to apply ice for the first two days. After 48 hours, you can apply heat. Heat is a vasodilator, and will therefore open the capillaries, allowing the immune system to take over.
Maintain a Healthy Blood Pressure – Eating healthy and regular exercise helps to lower your blood pressure. People who have low-normal blood pressure tend to bruise less.
Arnica – Dr. Oz touts Arnica cream or gel for sore muscles and bruises. However, Arnica is a vasodilator, which dilates your blood vessels, so you will want to wait at least 48 hours before applying any Arnica. (See "Apply Heat" above.)
Elevate the Bruise – During the first 48 hours, while applying ice, elevate the bruised area. Elevating helps to reduce the size of the bruise by simple gravity, making it more difficult for more red blood cells to collect in the injured area.
As a bruise heals, it changes colors until it finally disappears. The colors begin with red, than darken to blue or purple, followed by green, until it turns yellowish-brown in the final stages.
This color change occurs because white blood cells are removing the decayed blood products little by little. Different components of the blood have different colors, and these colors in turn lend color to the bruise. Green, for example, represents a component called biliverdin. Yellow-brown represents bilirubin. (REF_1)
Bruising can take several days to several months to completely heal, depending on the size and the severity of the injury.
If you are pregnant, nursing, or have a medical condition, please speak with your doctor first before consuming more than the daily value (DV) of vitamins, minerals and herbs.
References:
(REF_1) Yale medical Group | http://www.yalemedicalgroup.org/stw/Page.asp?PageID=STW001872
© Article reprinted with permission by DoctorYourHealth.com