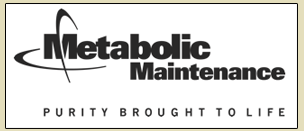 Mission Statement
With integrity and ingenuity, we enhance the health of individuals by manufacturing and supplying nutraceuticals to health care professionals. Our products are scientifically based and of the highest purity and quality available worldwide.
At Metabolic Maintenance, we believe that natural vitality comes from purely natural sources. Since 1984, we have consistently innovated new methods for delivering the purest nutritional formulas, free from preservatives and inactive ingredients.
From our home in the small mountain town of Sisters, Oregon, Metabolic Maintenance continues to pioneer the field of personal nutrition by combining the latest wellness research with certified manufacturing practices and personalized customer service. We strive to provide a complete selection of only the purest supplements to health care professionals who count on quality.
In the fall of 2002 we became the first physician exclusive manufacturer to receive GMP certification. Innovation, Purity, Quality, Value and Superior Customer Service continue to be the foundation of our company. Thank you for your business and trust in our brand.
GO SHOPPING FOR METABOLIC MAINTENANCE PRODUCTS